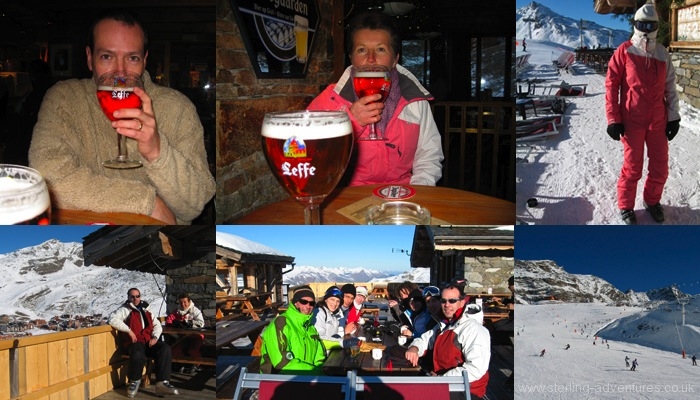 Dave & Kath headed off to Val Thorens to see if the rumours were true – yes, there was snow, it snowed a little and we had a fab time. Dave learnt to ski, Kath improved – both with help of our excellent ski instructors Sylvain and Frédérique of Prosneige Ski School.
It was our first skiing holiday together and the plan was to both get to a level where we could ski without holding each other up. Well, we're nearly there…. Kath's quicker down hills, and Dave's quicker weaving through the other skiers.
At first we had our basic 2 hour lesson split into appropriate skill levels, after lunch we decided to head for a blue run. Without previous knowledge, it ended up as the steepest blue in the area and this was a baptism of fire for Dave. At the end of the week, after a further 15 hrs of lessons, even though it got quite icy, we were both doing well even on this nasty blue run.
Towards the end of the week, the snow was not so good, getting icy and we called it a day – perhaps being sensible and trying to avoid a nasty accident.
We were glad away, to be heading home on the 23rd December, as the snow conditions had deteriorated. We bought ski boots and have not had a chance to use them yet. Perhaps in Scotland or Chamonix later this year????
An overnight delay in Chambery was a bit of a pig for us, but we got home in time for the drinks party for our neighbours.
We must thank Kath's mum for doing the dog sitting.