| | | |
| --- | --- | --- |
| | | |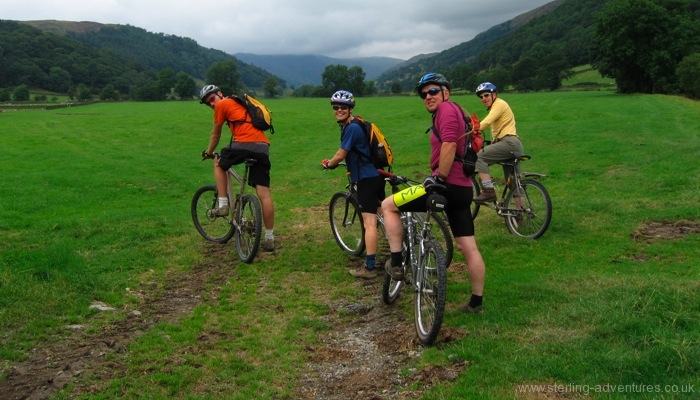 The gang (pictured by Laetitia above; Pete, Anna, Paul and Ian, accompanied by Kelda, Ian's border collie) headed off to Longsledale for quite a long (16 mile) mountain bike ride this past weekend. The weather stayed mostly dry, only spitting a little at one point. Although it was very grey and foreboding at the head of the valley. We started by going up Longsledale to allow us to fully enjoy the awesome downhill single track back into Kentmere! This approach, up the very long Longsledale valley, was only marred slightly by the amazing number of gates the farmers have installed. It felt like one every 10 metres… But never-the-less, a nice place and extremely quiet compared with other parts of the Lakes. All the tracks were still grassy – no erosion of the top soil here!
Poor Kelda ran here little heart out keeping up with the bikes round the whole ride. So much so that the pads of her front paws were blistered. After some TLC from Ian she just slept the rest of the evening, hardly able to even move to go out and chase the neighbours cats in the back garden.
Just for completeness, it's worth noting that while all that biking was going on (nearly 5 hours worth), Steph stayed home watching episodes of Battlestar Galactica back to back!

Start slideshow with these images